Do you ever wake up and feel as if you are just going through the motions?
Like you are stuck in a rut that you can't seem to get out of? Too far deep into your comfort zone that everything you do in life feels all-consuming?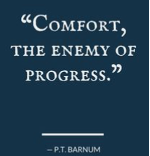 Try this: Seek discomfort. Write it on your mirror, put it in your calendars, set a reminder.
We often forget that trying new things and getting out of our comfort zones is vital to us growing. Seeking healthy discomfort in our lives doesn't have to be a bad thing; it can be an exciting or even a spontaneous thing for some of us. But, in order to grow in this one life we were given, staying stagnant and going through the motions will just limit our capacity to grow.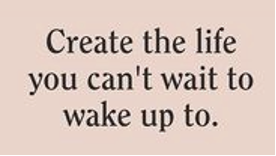 Is there something that instantly comes to mind when you see this quote? That one thing that you would be so giddy about trying or have always wanted to do since you were little?
Do it. What's stopping you?
Whether reaching your goals relates to your professional, personal, or social side of life – there are so many reasons to jump outside of our comfort zone. It could look like you trying to break social norms and representing a new cause, creating a one-of-a-kind business idea that no one has ever thought of, or even making a huge decision for your family that you have been avoiding. Regardless of the reason behind your breakthrough, jumping out of your comfort zone could change your life forever.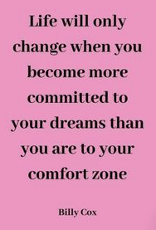 Breakthrough can be hard. There could be so many different obstacles in the way of you getting to this moment. Ignoring the obstacles won't help but addressing them and handling them in a healthy way will get you one step closer to your goals.
If that means consulting a professional – do it. If that means talking to a loved one – do it. If it means processing things on your own and allowing yourself to breathe – DO IT!
Even though this process can be hard, these small victories will fuel your fire to keep going. Even if it just means talking to someone about this season in your life.
It is also important to remember that everyone achieves and reaches goals differently. Not everyone even has the same goals. Something huge to you could be very small to someone else, and vice versa.
Someone once said, "Comparison is the thief of happiness in life." So, remember, even though people around you are doing things differently, if you focus on yourself and don't compare your journey to others – it will help you grow in millions of ways. Because you ARE one of a kind; and so is your story.
So, the next time you find yourself thinking, daydreaming, or even creating new goals you may want to accomplish; do it! Seeking healthy discomfort could be what changes everything, in so many amazing ways.
And just think, by the time you finish reading this sentence, it will be just the beginning to one of those amazing things outside of your comfort zone.